Max Dalda Muller, our Counselling Course Leader, has completed a life-affirming trek to the summit of Mera Peak in the Himalayas to raise money for local charity 2BU Somerset.
Max chose this charity because of the amazing work that it does in the county supporting young people, as well as educating, lobbying and flying the flag for the LGBTQ+ community.
Max's Himalayan Adventure Diary
"Day 1 - Kathmandu: The adventure begins in Kathmandu, a city that defies traffic logic, yet somehow, it all works. My visit to the Swoyambhu Mahachaitya temple was a serene contrast to the city's chaos. I even had a chat about mindfulness with a Buddhist monk. Then, I braved the chaotic streets as a pedestrian and sampled delicious momos in Durbar Square. Chaos and charm in equal measure.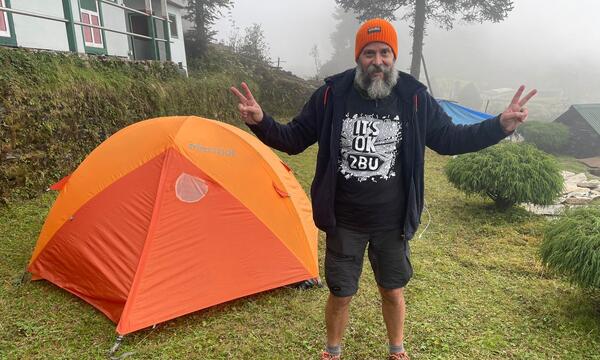 Day 2 - Off to Salleri: The journey to Salleri, perched at 2500 metres, was quite an experience. An overcrowded Jeep ride, filled with fellow travellers, including a Portuguese psychotherapist. The road was treacherous, but the views and local culture made it all worthwhile. My initiation into the art of eating Dhal Bat with my hands was a messy, yet delicious, affair.
Days 3-5 - Trekking Through Jungles and Villages: We embarked on our trek, passing through lush jungles, rhododendron forests, and picturesque valleys. Local wildlife sightings included monkey fights and red panda droppings. The Nepalese people's humility and hospitality left a deep impression.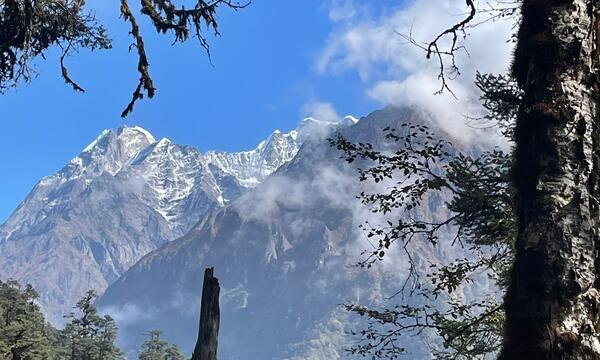 Day 6 - Khare: Khare at 2500 metres offered a glimpse of civilisation. Mobile coverage became patchy, but we were greeted with hot chocolate, popcorn, and cosy duvets. Luxury amidst the mountains.
Day 7 - Acclimatisation: An acclimatisation hike and equipment check prepared us for the challenging ascent. Memories of using Jumars and abseiling flooded back after three decades. The pace was slow, in sync with the Himalayan philosophy of "Bistari bistari" - slowly, slowly.
Summit Day: After reaching Khare at 5100 metres, we prepared for the summit. The ascent was gruelling, both physically and mentally. I battled my inner demons, but the awe-inspiring views of the Himalayas kept me going. Finally, we reached the summit at 6467 meters, and the emotion was overwhelming. Everest, Cho Oyu, Lhotse - legends I had dreamt of seeing as a child, now towering above.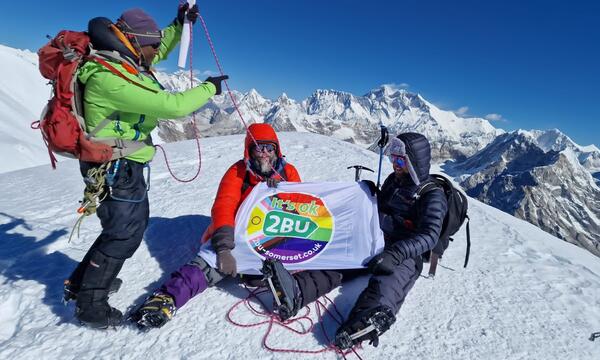 Descent and Reflecting on the Journey: The descent took us through remote villages and challenging terrain. We even performed rituals at the sacred lake of Panch Pokhari. The journey felt like stepping back in time, untouched by modernity.
Safety in Bear Territory: Descending through bear territory kept us on our toes, singing and mimicking animals to avoid startling them. The jungle and bear encounters added a thrilling twist to our adventure.
Back to Civilisation: Arriving at the Snow Lion Eco Lodge felt like a return to the comforts of civilisation. Showers and Wi-Fi were luxuries we hadn't realised we missed.
Homeward Bound: Our journey brought us to Salleri, the last stop before returning to Kathmandu and then the UK.
This adventure has been a test of physical strength, mental resilience, and a journey of self-discovery. The Himalayas have left an indelible mark, and I wonder how this experience will shape me as I return to the world of emails, schedules, and daily routines. Until we meet again, Nepal. Namaste!"
Max has raised over £1,000 for 2BU Somerset, so far. His JustGiving page is still open at https://www.justgiving.com/page/max-dalda-muller-1694986124103
Well done, Max!