Life as a Student Nurse
1 October 2021
My name is Jenny, I'm 25 years old and I live in Somerset with my partner Matt and our two beautiful dogs 🐶
Since I left school, I have been working in Health and Safety, but after seven years I knew I was ready for a new challenge! I have always been interested in going into healthcare, initially as a midwife but I decided on following the nursing path.
In July this year, a job advert came up for a Nursing Degree Apprenticeship, which some of my lovely supportive friends encouraged me to apply for. I couldn't believe I was successful in receiving a place on the course! Fast forward three months and I am working my last few days in my current job, ready to start the apprenticeship on the 13th October 🏥 I am so excited to start!
The course is four years long, and each week is split into one day at University Centre Somerset, two days on a placement, and two days in a Support Worker Role. I hope to find out my base ward for the Support Worker role next week and can't wait to find out what my first placement will be! 🤩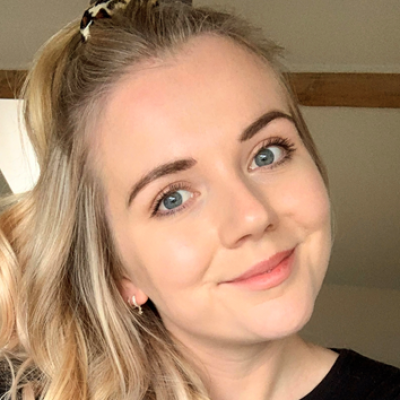 9 October 2021
So excited to start next week! Four weeks of induction, then I start as a Student Nurse and Support Worker 🤩
31 October 2021
Such an interesting week including:
✨ Venepuncture and cannulation training
✨ Moving and handling training
✨ Academic writing session
✨ Blood pressure and vital signs practical training
✨ Tissue viability and pressure sores training
One more week to go, then placement begins 🤩😳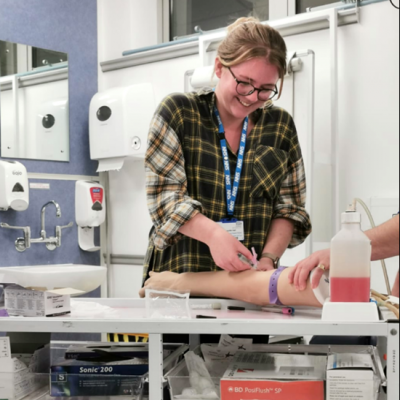 8 November 2021
First day with the District Nursing Team! Going well so far, the team are all lovely and I've seen some nice patients!
13 November 2021
Week 1 complete! ✅
Toilet selfie to celebrate 😅 If I'm completely honest this smile has not been on my face all week, there have been some really challenging moments but also some amazing rewarding ones! Community nursing is definitely eye opening, but I am learning a lot! And I've met some lovely patients. I did my first venepuncture which was incredible but terrifying 💉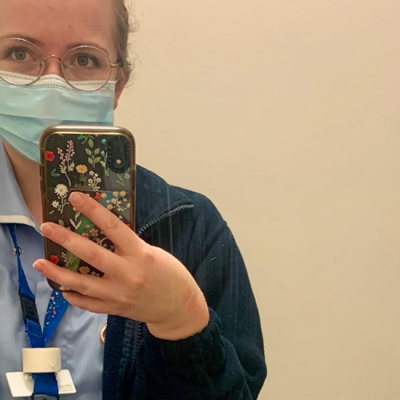 16 December 2021
First term of my degree nearly complete 🤯
The time has flown! I've done six shifts as a student nurse on an elderly care ward, which has been really challenging at times but I've definitely learnt a lot!
I've also been working as Health Care Assistant in the district nursing team for the last six weeks, which I am really enjoying! I've been doing venepuncture, lots of wound dressings and insulins!
Christmas break starts on Saturday, I cannot wait for a rest 🤩🥂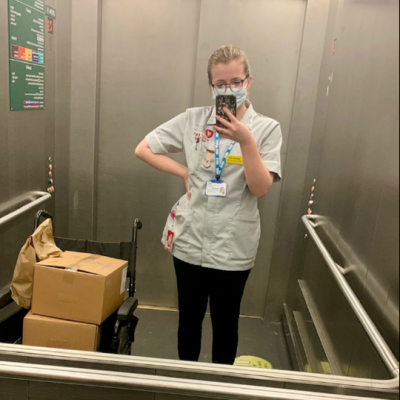 29 December 2021
B A C K T O I T 📚
After a lovely week and a half of seeing family and friends and catching up on some rest, it's about time I got back to my uni work!
I have a 2,000-word assignment due for submission in January for the Fundamentals of Nursing Practice module. I am writing mine around communication in dementia care, as I am currently on placement in an elderly care ward and I hope that the research I do for this assignment will help to improve my communication skills with both dementia patients and their families.
This morning I opened one of my inspirational quotes that my mum gave me when I started my degree. Today's quote read, 'Too often we underestimate the power of a touch, a smile, a kind word, a listening ear, an honest accomplishment or the smallest act of caring, all of which have the potential to turn a life around.' 💛
1 February 2022
Haven't done an update for a while! I am really enjoying my community HCA position! Finally feel like I'm settling into the role and starting to (sort of) know what I'm doing! I have my own caseload now and have been visiting patients doing wound care and venepuncture on my own! I am almost signed off to do insulin injections on my own too 🙌
My student placement on the elderly care ward has been good but very challenging at times with staffing shortages and also COVID cases. I have learnt so, so much though and have got nearly all my proficiencies signed off by my midpoint review ✅ Only about 12 shifts on this placement left so want to get all I can out of it! I am going to have a day out with the tissue viability nurses in the next couple of weeks and also hope to spend some time with the diabetic nurses too 🙏
Uni has been good, loving learning new things! We completed our Fundamentals of Nursing Practice 1 Module and submitted our 2,000-word assignment in mid-January, just waiting for results 😬 Now we are doing Anatomy and Physiology module! Loving this module so far, it's so interesting! We got to dissect a heart last week 👩‍🔬
The biggest hurdle so far has been my confidence, however I'm finding that as time goes on I am starting to believe in myself and my abilities more! Still a long way to go but I'm so glad I took the leap and started my nursing degree 👩‍⚕️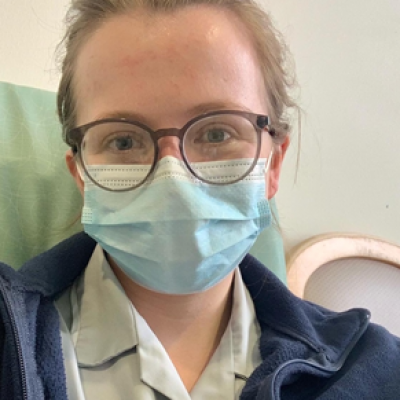 9 March 2022
I am absolutely loving my base employment as a HCA in the District Nursing Team! I have been doing lots of visits on my own and starting to see some patients regularly which I love, it's so nice when they greet you by name and say they're happy to see you. I'm now signed off to administer insulin injections and have been doing lots of wound care too. I've also been doing some venepuncture and pressure area checks.
I have four shifts left in my placement on the elderly care ward. I feel like I'm finding my feet on this ward now but it has been really challenging at times. They are so short staffed and I quite regularly miss out on learning opportunities because I'm helping out as an HCA 🙁 I have looked after some lovely patients though, and I did my first 'last offices' this week which I found incredibly sad but a privilege to care for a patient at the end of their life.
Uni has been good! We're currently studying 3 modules (😵‍💫) - Anatomy, Physiology and Pharmacology, Principles of Nursing Practice and Episodes of Care. Really enjoying the lectures but it is very challenging to keep up with the work when we're working 38 hours a week too!
All in all, I am so, so glad I took the plunge to do this degree apprenticeship. I didn't realise how unhappy I was in my old job until I became so happy in this one. It is one of the hardest things I've ever done but it's also so incredibly rewarding ✨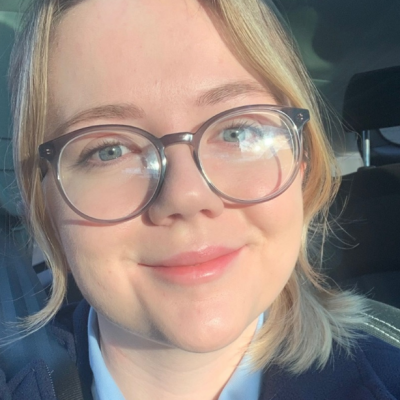 5 April 2022
PLACEMENT 1 COMPLETE ✅
My first placement on the Care of the Elderly Ward is done and I'm all signed off!
I had a good last day, the nurses supported me to do the handover for my patients which was slightly terrifying but went well! And I had some lovely feedback from the team 😍
Overall, I have learnt an incredible amount on this placement and worked with some lovely members of the team 🎉 At the moment I prefer the community aspect of my job as opposed to the wards, however this may change in the future!
Spent today uploading my PAD to be marked!
My next placement is on a surgical ward in the hospital. I met the Junior Sister yesterday and discussed my shifts and Practice Assessors / Practice Supervisors 🙌
Just one more uni day tomorrow and two days in the community as an HCA and I will be on Easter holidays 💫 So ready for a rest!
6 April 2022
Today we dissected lungs at uni! It was fascinating 🤓
We got to feel the toughness of the cartilage surrounding the trachea, and then follow that down into the bronchi. We then cut the lobes open to see the bronchioles.
Fun fact - the lung tissue floated in water due to the air in the thousands of alveoli!
I also learnt today that the right lung has three lobes but the left only two. This is due to the left lung being smaller to accommodate the heart (the gap is called the cardiac notch).
We also got to inflate the lung using a foot pump (shown in the video).
Such an interesting afternoon, I love A&P! Although I'm sure I won't be saying that when I'm studying it over Easter hols 😅
26 April 2022
New placement 👩‍⚕️
Back to work, uni and placement this week after a lovely two weeks annual leave.
I had my first shift on my new placement on Monday. It is a 40-bed surgical ward, that specialises in caring for patient post orthopaedic, trauma and gynaecological surgery. The patients are all in side rooms which is really hard to get used to after spending 5 months on a ward with 6-bed bays! I found I really had to make the time to go in and visit each patient rather than being able to keep an eye on them in the bay! I had my initial meeting with the ward sister to discuss who my PA is, and any learning opportunities available. Hopefully, I will get the opportunity to scrub in on some surgery 🤩
12 May 2022
Happy International Nurses' Day! 👩‍⚕️
Today I am reflecting on the last 7 months of being a student nurse. I am so incredibly grateful to have been given this opportunity. At 25 I was worried that I was too late to be changing career. With a mortgage to pay, leaving my well paid steady career was terrifying, however, it was the best decision I've made!
I've been lucky enough to work with some amazing people over the last 7 months who have taught me so much. There's been some hard times but there has also been some amazing moments, and I am so excited to see what's to come! 💫
I am proud to be a #futurenurse
30 May 2022
✨ SPOKE DAY - THEATRES ✨

I had the best day at work ever today 👩‍⚕️ I got to spend the day in theatres to broaden my knowledge of surgery, to help me on my post-surgical ward placement!
This morning I got to observe a Laparoscopic Hysterectomy which was just incredible! It's definitely sparked an interest in gynae for me 😍 It really surprised me how small the uterus, Fallopian tubes and ovaries are!

This afternoon I observed a Carotid Endarterectomy, which is where the carotid artery in the neck is cut and built up fatty deposits are removed. This can significantly reduce the chance of strokes or TIAs! The surgeon let me hold some of the fatty deposits that were removed - they felt as hard as bone! 😧
So grateful to have had the opportunity to observe these surgeries today. The scrub nurses and HCAs really took the time to explain their roles to me and show me how they set up their sterile equipment, count the equipment etc and the importance of this. The surgeons also answered any questions I had!
I'm on this placement until December so hopefully will get some more opportunities to visit theatres again! Maybe orthopaedics next time.

PS. First time wearing scrubs and I'm obsessed. How are they SO comfy!? Wish I could wear them every day 😅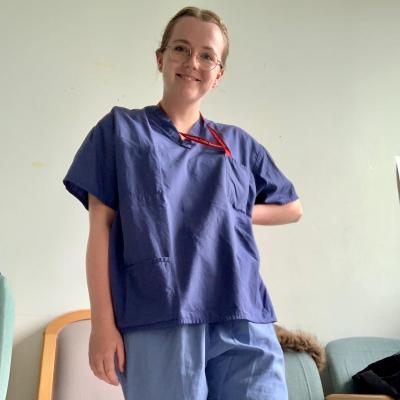 10 June 2022
I did a 12 hour placement shift on Monday! I got to practice making up lots of IVs, I am slowly getting there but still feel like I'm all fingers and thumbs 💉

I had my tripartite review meeting on Tuesday. This is held with my Practice Assessors at both my placement and base employment, plus my Academic Assessor from uni. The meeting went well and had some lovely feedback 🙏 We have also set some targets for the next 3 months, including becoming competent in catheterisation! 👩‍⚕️

On Wednesday I attended VAC Training to help me with my HCA role in the district nursing team. VAC stands for vacuum assisted closure, but is also known as negative pressure wound therapy. The wound is filled with either a foam or gauze, a seal is applied and then a vacuum pump creates negative pressure in the wound, aiding closure. We had a go at applying a VAC on a model leg and sacrum which was good - I always learn so much better hands on!

In the afternoon we had the opportunity to take part in 'The Virtual Dementia Tour'. Our senses were altered by wearing special glasses and noise amplifying headphones. We then entered the bus and had to carry out simple tasks, which were made much more difficult by the equipment we were wearing. The experience is supposed to give you an insight into what it's like living with dementia. It was very distressing at times but such an amazing opportunity and taught us so much about working with persons with dementia! We then had a debrief afterwards. I think everyone should attend this training - it really opens your eyes to what people may be going through and what a positive (or negative) impact your behaviour can have on them.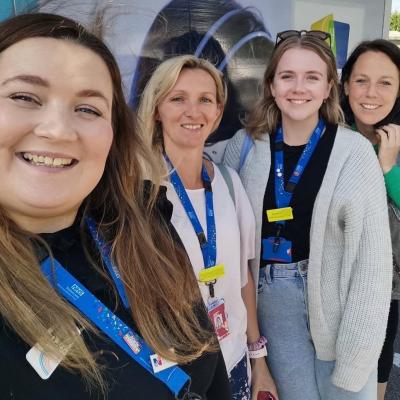 I also posted my first ever reel that evening! On Thursday, I worked as a HCA in the district nursing team. I had a student (TNA) with me today on my visits! It was so lovely to spend the day teaching and giving the lovely TNA opportunities to get involved and learn! It also made me have a bit more faith in myself - having to teach someone else made me realise how much I have picked up working in this role for the last 8 months!

Friday today and another DN shift! Then 2 days off this weekend 🙌
21 June 2022
Orthopaedic Surgery
Today I spent a few hours in Orthopaedic Theatres! I got to observe a TKR (Total Knee Replacement) and THR (Total Hip Replacement) 🏥
Both surgeries were absolutely fascinating, but quite intense with all the equipment and drilling noises! I was lucky enough to get to hold the patients head of femur (hip) when it had been removed!
I also got to follow the patients through to recovery which was fab! I learnt a lot about anaesthetic, laryngospasms and maintaining airways. I would definitely like to spend some more time in recovery, it was so interesting!
All the staff I shadowed today were so so lovely and spent lots of time explaining their roles to me and getting me involved. Always so grateful for opportunities like this 👩‍⚕️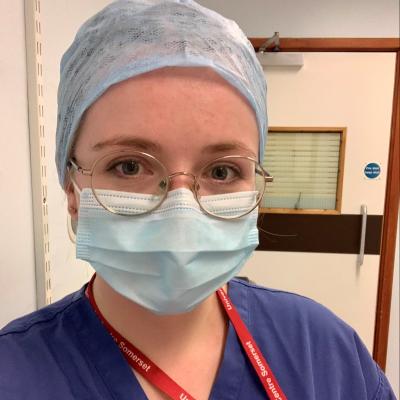 If you would like to find out more about our Nursing courses click here.